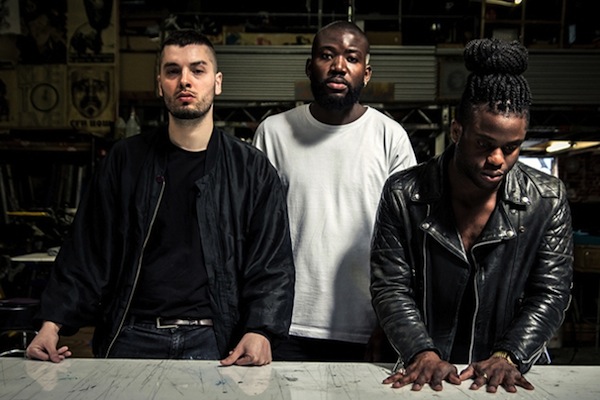 This week "the Scottish/Liberian/Nigerian trio Young Fathers set out on a massive headlining tour through the U.S., Canada, the UK and a few places in between. Ahead of the tour the group now share a preview of what to expect from their pop music revival. The clip [below], brilliantly narrated by their manager Tim London and partially shot while they were on tour in South Africa earlier this year, is an arty redefinition of what it means to make pop music in 2015. "Pop means something different where we're from," London says. "Where we're from, pop is the soundtrack to youth. It includes all the genres apart from the most obscure ambient music. Just about every genre has its pop songs." — via OkayAfrica
Their new album White Men Are Black Men Too is out NOW on Bid Dada.
Check the video below, and the complete North American Tour Dates below that!
04.10.15 Brooklyn, NY Music Hall of Williamsburg USA
04.11.15 Philadelphia, PA Boot & Saddle USA
04.12.15 Washington, DC Rock & Roll Hotel USA
04.14.15 Raleigh, NC Kings USA
04.15.15 Atlanta, GA Masquerade USA
04.16.15 New Orleans, LA Republic New Orleans USA
04.17.15 Houston, TX Fitzgerald's USA
04.18.15 Dallas, TX Trees USA
04.19.15 Austin, TX The Parish USA
04.21.15 Scottsdale, AZ Pub Rock USA
04.22.15 San Diego, CA Casbah USA
04.24.15 Los Angeles, CA the Echo USA
04.24.15 Los Angeles, CA The Echo USA
04.25.15 San Francisco, CA The Independent USA
04.29.15 Portland, OR Holocene USA
04.30.15 Vancouver, BC Fortune Sound Club USA
05.01.15 Victoria, BC Distrikt CANADA
05.02.15 Seattle, WA Neumos USA
05.05.15 Boise, ID Neurolux USA
05.06.15 Salt Lake City, UT Urban Lounge USA
05.07.15 Denver, CO Larimer Lounge USA
05.08.15 Lincoln, NE Vega USA
05.09.15 Minneapolis, MN 7th St Entry USA
05.10.15 Chicago, IL Lincoln Hall USA
05.13.15 St. Louis, MO Firebird USA
05.14.15 Nashville, TN Exit In USA
05.15.15 Gulf Shores, AL Hangout Music Festival USA
05.16.15 Gulf Shores, AL Hangout Music Festival USA
05.17.15 Gulf Shores, AL Hangout Music Festival USA