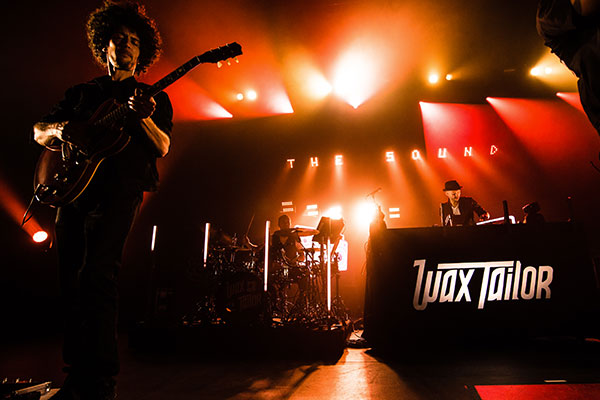 Wax Tailor's North American tour launches January 17th in Philadelphia and will wind its way through the U.S. and Canada ending in Asheville on February 18th. By Any Beats Necessary, Wax Tailor's fifth album, is out now! The title references the Malcolm X phrase "By Any Means Necessary", which was in turn inspired by Sartre's play "Dirty Hands".
By Any Beats Necessary is packed with talent featuring Ghostface Killah from the Wu Tang Clan, R.A. The Rugged Man, A-F-R-O, Token, Tricky, Charlotte Savary, Lee Fields, Sara Genn, Mattic, Raashan Ahmad and newcomer Idil.
Wax Tailor is known for his searing live shows. Anyone who experienced his 2014 shows with an ENTIRE ORCHESTRA will attest to that. On By Any Beats Necessary, Wax Tailor created all the beats using live drums so it's only natural that he's bringing the drums for the live show this time around! Wax Tailor always creates a feast for eyes as well as the ears so get ready for brand new video elements too! Wax Tailor hasn't forgotten to bring friends: Rappers Raashan Ahmad and Mattic as well as the lovely Charlotte Savary.
Check out the Wax Tailor directed short film "In Wax We Trust" below, and be sure to grab tickets to one of his tour stops today!
TOUR DATES:
1/17/17 / Philadelphia, PA / Union Transfer
1/18/17 / Washington, DC / 9:30
1/19/17 / New York, NY / Webster Hall
1/20/17 / Boston, MA / Royale
1/21/17 / Montreal, QC / Metropolis
1/22/17 / Quebec, QC / Imperial Bell
1/24/17 / Toronto, ON / Adelaide Hall
1/25/17 / Detroit, MI / The Crofoot Ballroom
1/26/17 / Chicago, IL / Thalia Hall
1/27/17 / Madison, WI / Majestic Theatre
1/28/17 / Minneapolis, MN / Fine Line Music Café
1/31/17 / Denver, C0 / Gothic Theatre
2/01/17 / Salt Lake City, UT / Urban Lounge
2/03/17 / Portland, OR / Wonder Ballroom
2/04/17 / Seattle, WA / The Showbox
2/07/17 / Vancouver, BC / Rickshaw Theatre
2/09/17 / San Francisco, CA / Regency Ballroom
2/10/17 / Los Angeles, CA / Fonda Theatre
2/11/17 / San Diego, CA / Music Box
2/13/17 / Phoenix, AZ / Crescent Ballroom
2/15/17 / Austin, TX / Empire Garage
2/16/17 / New Orleans, LA / House of Blues
2/17/17 / Atlanta, GA / Terminal West
2/18/17 / Asheville, NC / The Orange Peel