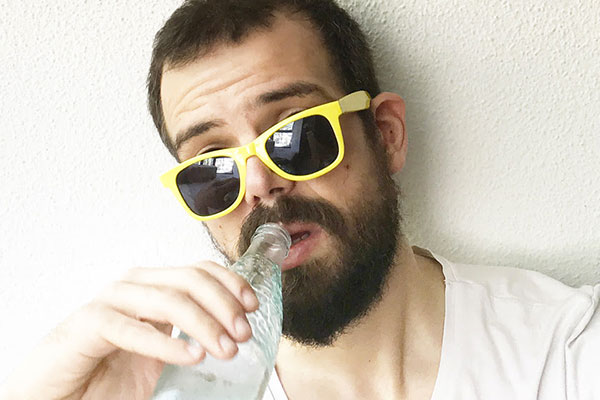 Yuri Méndez started working on The Collapse in the early months of 2015, when, struck by conjunctivitis, he found himself sitting alone in the dark with an irresistible urge to make new songs. With his MD's severe voice resounding in his head, telling him to not, repeat, not go near any kind of bright light, he turned on his keyboard and marvelled at the tiny, definitely not bright, red and green dots lighting up on the machine, barely illuminating the black and white keys.He started tickling the ivories, and the seeds for The Collapse were sown.
Fast forward to November 2015, when Yuri, stepping out of the darkness and into the light with 20/20 vision, joined another Lovemonk regular, Bart Davenport, at the Punta Paloma studio. There, they recorded and produced the record with the help of Shawn Lee, one of the hardest working men in show business, and Yuri's long-time friends and collaborators Charlie Bautista and Javier Jiménez.
Two weeks later the album was ready, but when Yuri returned to Madrid, his life became the reflection of one of the new song titles: everything collapsed – his private life was a shambles after breaking up with his long-time girlfriend; he quit what you may call his day job; some of his friends were no longer his friends; several of his guitars fell apart; he was strapped; and he broke his hand, so he had to cancel all his summer gigs.
In short, The Collapse is based on real events, even though those events had not yet taken place at the time of recording, like some kind of self-fulfilling prophecy. Luckily, this is Pajaro Sunrise, so no drama is too big for a bit of gallows humour. "We might as well sing to the collapse of everything", sings he on the title track, over a rather chipper melody.
That contrast is one of the noticeable features on The Collapse: sombre lyrics accompanied by reasonably cheerful music. A lot of that has to do with Bart Davenport playing on and co-producing the record – he adds a different colour to the sound. It's Pajaro Sunrise, Jim, but not as we know it. A long-time fan of 'El Barto"s music, Yuri reckons his guitars act like a switch of some sort of time machine that always takes you to a better time. And let's not forget the studio. Situated on the idyllic beach in the southern Spanish city of Tarifa, from where you can see Africa, the Sagrista family-run Punta Paloma studio has a unique vibe, something Bart Davenport had experienced a few years earlier, when he recorded the wonderful Incarnations album for Lovemonk.
So there you have it: had he had a choice, Yuri would probably have avoided the self-fulfilling prophecy part of the story, but the mind acts in mysterious ways, and without that we may not have had this beautiful album. Everything's in the right place.
Watch the video for "Man's the Only Bird Who Has No Feathers" below!