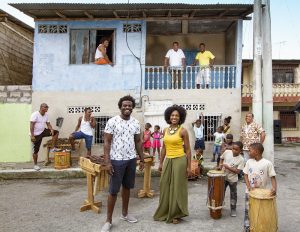 Named after the river that divides Ecuador and Colombia, Rio Mira specializes in the creation of contemporary music with traditional sounds, dating back hundreds of years. Their sound is based on the art of great musicians and producers from Ecuador and Colombia and the influence of local indigenous groups, cosmopolitan cities, and the African diaspora.
Their debut album, released on a ZZK's sub label AYA Records is produced by Iván Benavides (involved in Latin Grammy-winning groups like Choq Quib Town and Los Giateros de San Jacinto) and Ivis Flies (producer of Latin Grammy-winning social heritage project De Taitas y Mamas) and is guided by the distinctive percussive tones of the marimba, which is the all-important ingredient of this socially conscious project.
This year they bring their stunning  music to the U.S. on their Southern Exposure tour. Check out the tour dates below to see Rio Mira in a city near you – dates below!