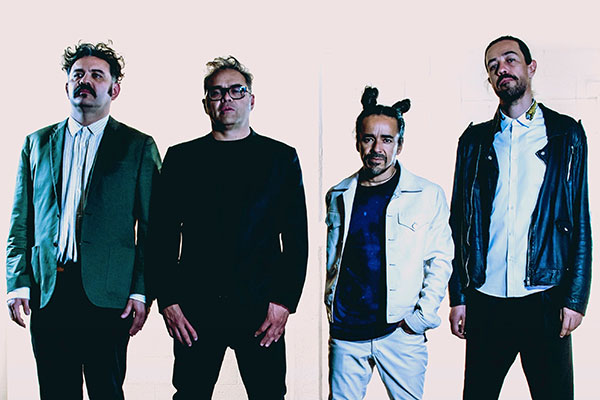 "Café Tacvba have cracked the code: Over the course of a 25-year recording career, they have somehow remained thrillingly mutable as other rock bands broke up, burned out, got stale or settled into an old hits routine.
In May, the revered Mexican group released Jei Beibi, their first album as an independent act after a long period of affiliation with Universal Music Mexico. This fall, they're supporting the record by embarking on their biggest ever tour of the U.S.; for good measure, the band will end the trip with their first ever live collaboration with an orchestra, the Los Angeles Philharmonic.
Billboard spoke with Emmanuel "Meme" del Real, who handles keyboards, among other duties, about Café Tacvba's new status as an indie act and the challenges of constant reinvention."
Click HERE to read the full interview at Billboard.
Tour Dates:
9/28 – Miami Beach, FL @ Jackie Gleason Theater
9/29 – Lake Buena Vista, FL @ House of Blues
9/30 – Atlanta, GA @ Masquerade
10/1 – Raleigh, NC @ The Ritz
10/2 – Brooklyn, NY @ Brooklyn Steel *
10/3 – Boston, MA @ House of Blues
10/5 – Silver Spring, MD @ The Fillmore *
10/6 – Charlotte, NC @ The Fillmore
10/9 – Denver, CO @ Ogden Theatre #
10/11-12 – Sacramento, CA @ Ace of Spades #
10/13 – Fresno, CA @ Woodward Park Rotary #
10/14 – Primm, NV @ Star Of The Desert Arena
10/15 – Los Angeles, CA @ Walt Disney Hall (with Gustavo Dudamel and LA Philharmonic Orchestra)
10/17-18 – San Diego, CA @ Observatory North Park #
10/21 – Phoenix, AZ @ Veterans Memorial Coliseum
10/21 – Indio, CA @ Fantasy Springs Resort Casino
# Flor De Toloache Opens
* Vicente Garcia Opens