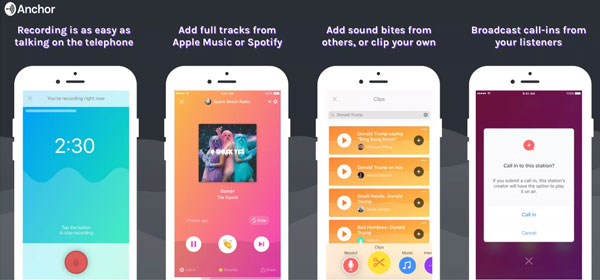 "A quarter of Americans listen to podcasts each month, but far fewer make them.
Anchor is a startup that is looking to change that with its app that makes it easy to record and distribute content. Anchor also has a discovery platform, which allows users to find audio across categories like news, sports, music and tech.
"We built the product to be the easiest way to create, share, and interact with audio," said Anchor CEO and co-founder Michael Mignano. "We're seeing more and more regular people want to jump in and start creating audio."
It's not just a record button, Anchor also allows for users to make calls directly via the app, facilitating a podcast conversation with multiple parties. It also enables listeners to dial-in and participate.
Anchor also has the rights to music tracks through partnerships with Apple Music and Spotify. And it's not just the Anchor platform, everything can be posted on Apple podcasts, Google Play and devices like Alexa.
"Audio is having a moment," said GV general partner M.G. Siegler, about why he invested. "We've seen this with the rise of Amazon Echo, Google Home and Apple AirPods. Anchor is one of the companies in prime position to take advantage of all of this and move the audio space forward, in particular when it comes to interaction and production."
Anchor is available on Android and iOS.
— via TechCrunch
Watch: