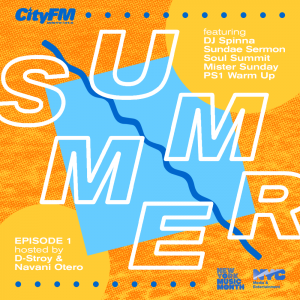 Introducing CityFM, a show about New York's local music community, and the sounds of the city.
CityFM's opening episode is devoted to "Summer," the time of year that the city's music scene livens up and comes out to express itself outdoors. It's a New York tradition stretching back for generations, and forever regenerating. So we take a survey of the city's outdoor party spaces, and what New Yorkers can find there.
CityFM hosts D-Stroy Melendez and Navani Otero talk to DJ Spinna about the city's history of block parties; to the DJs Stormin Norman and Tabu about their modern park jams — respectively, Sundae Sermon in Harlem, and Soul Summit in Ft. Greene; to Eamon Harkin about the great Mister Sunday party Ridgewood; and to Taja Cheek (aka L'Rain) who helps book PS1's Warm-Up in Long Island City.
Plus new music and New York Summer classics from DJ Spinna, Quantic, The Tramps, Marvin Gaye and Tammie Terrell, Eamon Harkin, Shaun Escoffrey, Breakdown Brass, Josh Brochaussen, Jigmastas, and more.
CityFM is produced for WNYE 91.5 FM by Co-Sign and Raspberry Jones, and co-produced by the NYC Mayor's Office of Media and Entertainment to celebrate New York Music Month.