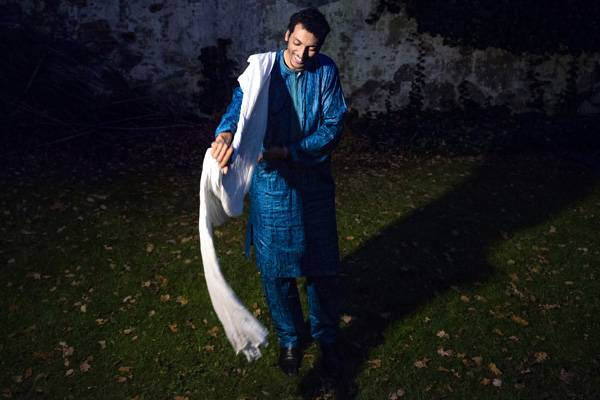 Bombino has announced his third studio album, Azel, will be released on April 1, 2016 on Partisan Records. As part of the announce, he has shared a video for album track "Inar" and interview with Rolling Stone. The video was filmed at Applehead Studio in Woodstock, New York where Bombino & Longstreth recorded the new album.
Applehead, a converted barn on farmland where goats, pigs, and other animals roam freely, was base of operations for the band. The group stayed in a guest house on the property, and took turns making meals. Apart from a morning invasion by a 700-pound pig, Applehead was the perfect atmosphere for Bombino and his group to create new music over the course of 10 days. Longstreth proved to be a fantastic match for Bombino as this album's producer. He has a deep respect for the Saharan music tradition and guided their sessions with a gentle but skilled hand.
Longstreth said of the recording sessions, "I finally met Bombino last fall, walking into the sprawling barn studio in upstate New York where we'd record Bombino's third studio album, Azel. There he was, relaxing on the couch, conversing in Tamasheq with his bandmates behind a barely perceptible smile. He was wearing a blue bubu, the traditional Tuareg formal attire, and bobbing his head along to the playback from studio's stately Genelecs. Though he speaks Tamasheq, Arabic and French, he rarely speaks at all. Instead, he plays the guitar.
Watch the video for "Inar" below, and check out the tour dates!
TOUR DATES
3/22/2016 – Toronto, ONT – Horseshoe Tavern
3/23/2016 – Montréal, QC – Centre Phi
3/24/2016 – Burlington, VT – ArtsRiot
3/25/2016 – Cambridge, MA – The Sinclair
3/26/2016 – New York, NY – Africa Now at The Apollo
3/29/2016 – Philadelphia, PA – World Cafe Live
3/30/2016 – Washington, DC – The Hamilton
3/31/2016 – Athens, GA – Slingshot Festival
4/1/2016 – Knoxville, TN – Big Ears Festival
4/2/2016 – Nashville, TN – Exit/In
4/3/2016 – Asheville, NC – The Orange Peel
4/5/2016 – Indianapolis, IN – The Hifi
4/6/2016 – Cleveland, OH – Beachland Ballroom
4/7/2016 – Milwaukee, WI – Turner Hall – supporting Galactic
4/8/2016 – Chicago, IL – House of Blues – supporting Galactic
4/9/2016 – Minneapolis, MN – First Avenue – supporting Galactic
4/11/2016 – Louisville, KY – The New Vintage
4/12/2016 – St Louis, MO – Old Rock House
4/13/2016 – Lawrence, KS – Granada
4/15/2016 – Denver, CO – Bluebird Theater
4/16/2016 – Aspen, CO – Belly Up
4/17/2016 – Salt Lake City, UT – The State Room
4/20/2016 – Solana Beach, CA – Belly Up Tavern
4/21/2016 – Los Angeles, CA – Teragram Ballroom
4/22/2016 – Oakland, CA – New Parish
4/23/2016 – San Francisco, CA – The Independent
4/24/2016 – Santa Cruz, CA – Kuumbwa Center
4/27/2016 – Grass Valley, CA – Center for the Arts
4/28/2016 – Portland, OR – Star Theater
4/29/2016 – Seattle, WA – Crocodile Cafe
4/30/2016 – Vancouver, BC – Imperial Theatre