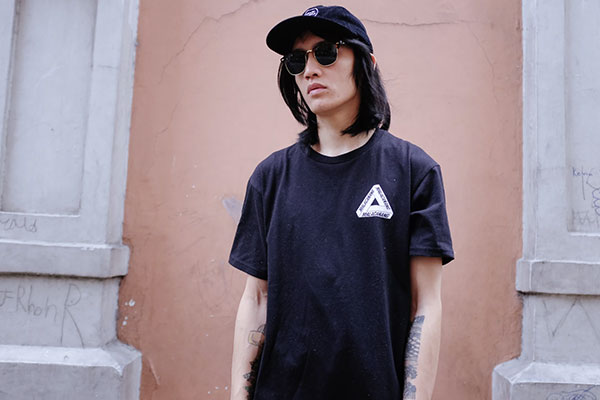 "[Eyedress'] Manila Ice is an extensive body of work — almost 17 songs, each teeming with feeling. Throughout, he spins whimsical daydreams and nightmares; mellifluous compositions about living in fear, ecstasy, insecurity, romance, and depression. On songs like "Manila Ice" and "Separation Anxiety," he makes passing references to drugs and corruption — activities that are currently under severe governmental crackdown in the Philippines — over sunny, relaxed beats. With his soft synths, melodic guitars, and melancholic lyrics paired with gentle vocals, Vicuña's visions on the album are hazy, but also a method of healing. After the intense year he's had, which he details in below, he solemnly tells me his music is only possible as a result of his closest relationships.
In the video for "High St. Drive By," Vicuña recruits his buddies — vocalist Jess, rapper Akio, and keyboardist Lustbass — for an adventure in experimentation. He captures them in surrealist landscapes through a fisheye lens in a song about being lonely, lost, and guilty, while having feelings for someone who deserves better than their current relationship."
— via The Fader
Watch the video for "High St. Drive By" below, or read the rest of the interview/feature with Eyedress HERE.